I never had any intention of visiting Santorini. One summer day in 2014, Archangel Michael informed me that i'd be visiting Santorini in 2015. When I asked him why, he notified me that Atlantis was located near Santorini and my heart skipped a beat.
At the time, the thought of anything Atlantis related both thrilled and frightened me. There's an immense amount of trauma energy that surrounds Atlantis, which is not surprising. We've all heard the story of how Atlantis sunk into the sea in "a single day and night of misfortune" according to Plato. Needless to say, many people died tragically.
Fast forward to slightly over one year and here I am in early September 2015, packing my bags to head to Santorini, Greece. Slightly nervous but very excited to see what's in store for me.
When I left for Greece, I also left behind my apartment of nearly 8 years with no solid plan for my return trip home. I said good bye to my boyfriend, family, friends and clients as I embarked on what would prove to be a massive spiritual cleansing and awakening.
I'd like to say that i'm surprised at how quickly and effortlessly I arrived in Greece, but I'm not. I had asked for Angelic intervention the entire way and they delivered. My first flight to Paris was really smooth, with only a couple of bumps here and there. In total, it took about 21 hours to arrive in Greece.
I spent my first 2 nights acclimating to the time change (Greece is 10 hours ahead of California) in Piraeus, where the main port is located. My only full day in Piraeus was Sunday and because it is a business district, every store was closed. I did manage to find a local cafe and purchase my high speed ferry ticket for Santorini on Monday. I stayed in a hotel a stones throw from the Ferry and they even made me fresh vegetables each morning in place of the traditional continental breakfast which consisted of eggs and assorted lunch meats. I was in Heaven!
Early Monday morning, the high speed ferry left Piraeus and made several stops before we arrived in Santorini 6 hours later.
Before the trip, I booked the most amazing studios, one minute walk from black beach in Perivolos on AirBNB. They are owned by Irene and co-managed by Andreas, who also serves as the property taxi driver.
Irene was like a mother and friend to me while I was there. She very often made me extras of her personal meals because she knew of my dietary restrictions. Needless to say, I ate the most amazing Greek food that was also vegan (and mostly gluten free) while I was there!
I'd like to say that it was easy for me in Santorini, but it wasn't. I'm aware that I have a choice in how I react and handle certain situations. I can choose to be happy at any moment and no matter how hard I tried or how much I surrendered to the energy, I had difficulty.
From the moment that the ferry was 30 minutes from Santorini, I could not breathe. My heart and chest was so heavy. I remember feeling like my suitcase was just too heavy to drag around, but that wasn't it. I went from a strong woman making my way through Greece to someone who had just endured immense physical trauma. That sounds intense because it was.
I felt confused and disoriented in Santorini.
At first, I didn't realize what was going on. My head was very foggy and it lasted almost my entire trip. The ocean was gorgeous, the water was warm and clear and the sand was dark black. It was a dream come true.
Until I got into it.
I work with Angels and its no secret that Archangel Michael is my go-to Angel for pretty much everything. When I got into the ocean, I wanted to run out and never look back. I COULD NOT BREATHE. I hyperventilated whenever I got into the water. It got so bad at some points that instead of crying, I would laugh. This all happened in my first 10 minutes in the ocean.
Michael put his hand on my left shoulder and insisted that I stay in the water, reminding me that he was there with me and advising me to immediately ground my energy into the ocean. It took me about 15 minutes, but I successfully grounded my energy. I needed to do this each and every day that I spent in Santorini.
Day 1 - Santorini
By the time I settled into my room, changed and walked to the beach, it was already 4 p.m. I sat out for an hour, got ready for dinner and headed to a local restaurant that Irene recommended.
My first interaction with the waiter was pleasant. I found out later that after he spoke to me about the menu, he went in the back and asked the waitress where I'm from and stated that I had been there before (I had never before been to Santorini in THIS lifetime). :)
The waitress clued me in to the conversation and insisted that she knew me! Turns out she had worked in San Francisco for quite some time, but i'm positive that I had never met her before. We began chatting about my work and long story short, she told me that in all her time on Santorini (she spends summers there working), she had never gone into the ocean. WHAT.
Seriously. And she isn't the only one!
Almost every single local or Visitor (Greek not originally from Santorini) that I spoke to wouldn't go into the ocean! When I asked why, it was 1 of 3 reasons.
They didn't like the energy of the ocean
They didn't know why they didn't want to
The ocean felt "overwhelming"
Yes, they mimicked my exact sentiments about the energy of the ocean. This is a huge symptom of Atlantis trauma. The Earth will carry trauma, just as our physical bodies will. When Atlantis was destroyed, the ocean still carries much of the trauma from all that occurred. The easiest comparison would be walking into a room after a big argument just occurred, it can best be described as awkward or uncomfortable. You FEEL that energy, even though you may not have been present for it.
After 10 days, I was scheduled to move to my next rental property in the town of Oia, which is home to the most beautiful sunsets in the world! I was thrilled but a part of me felt very resistant to leaving. I felt like my soul was calling me to stay but because I had already made other plans, I forced myself to go.
When I arrived, the energy in the cave house that I rented wasn't a good fit for me. I felt very heavy and my heart was in immense pain. There had been some traumas that occurred around or on the property. I decided to vacate and go back to my studio on Perivolos beach, even forgoing a previously booked trip to Mykonos. Irene graciously accepted me back in the studios (she had actually saved my room for me "just in case"!) and I was able to call it home for the remainder of my trip.
This is when the big changes happened.
Once I settled in and knew that I was taken care of for the next 10 days, I was able to fully integrate into the energy in Santorini and I no longer felt rushed into my exploration of Atlantis.
The main reason to travel to Santorini was to write my second book on Atlantis, or so I thought. You see, Michael needed a reason to get me here because i'm so "goal oriented". I was aware before I arrived that I was on the hunt for a book somewhere in Santorini.
Wouldn't you know it? I found my book in this magical bookstore.
In a world of major online retailers, you may be thinking, "Felicia, why not just order the book online?" Trust me, I thought this too. Until I found the book. The version that the Angels wanted me to obtain is for sale nowhere online, not even as a used copy. I did obtain a used copy, underlined with (wouldn't you know it?) some of the most important phrases I will ever read in my life.
And I learned how to say and spell Atlantis in Greek, SCORE!
Ατλαντίδα
People were very interested in hearing about the book that I was writing (book #2 on Atlantis) and often asked where they could read the first one (not released yet). I came to Greece with a stack of business cards and came home with none. The topic of Atlantis still makes eyes glaze over. I've found that its often dismissed as folklore or fairy tale. Atlantis very much existed, but its become obvious to me that tangible proof is what's going to shift our remembrance and awareness.
That's why the book that I obtained is SO vitally important. Regardless of the conscious remembrance of Atlantis, the energy is still very present in Santorini. There are many hotels and restaurants with the name Ατλαντίδα (Atlantis) all over the island.
Although the main mission was to obtain this book, I knew coming into this trip that I wouldn't have the easiest time. Just as others are consciously or unconsciously healing from Atlantis, I too was healing. In preparation, I worked with the Akashic Records (where I perform 99% of my work) to release any beliefs or traumas that I had related to Atlantis. As a result of this work, my energy was less triggered being in the Atlantis energy.
I was, however, incredibly sad. I spent the better part of my 20 days in Perivolos asleep or crying. Most of the time, I wasn't aware of the reasons. I was absolutely physically exhausted and way too tired to write my book. The internet in Greece was also incredibly unstable, especially in Santorini. As I reflect on it, I can see that this was precisely how it was meant to happen. I needed the time to disconnect and go within.
I greatly enjoyed my time in Santorini. It was a time for me to make new friends, do research into Atlantis and most importantly, connect with the Atlantean energy that's so richly present there, especially in the ocean. I even met some new spirit guides that assisted me with my work!
I left Santorini feeling rested, but confused about my next steps. I know Atlantis is a huge part of my path and even as I write this, Michael is letting me know that the path will be clearer in the near future.
For now, i'm grateful for the experience and I can sense the big shifts that this has brought to my life already. I've come back a different person, am more connected than ever to my intuition and feel a stronger sense of purpose, especially as it relates to injustice. Just take a look at how much I changed during the trip.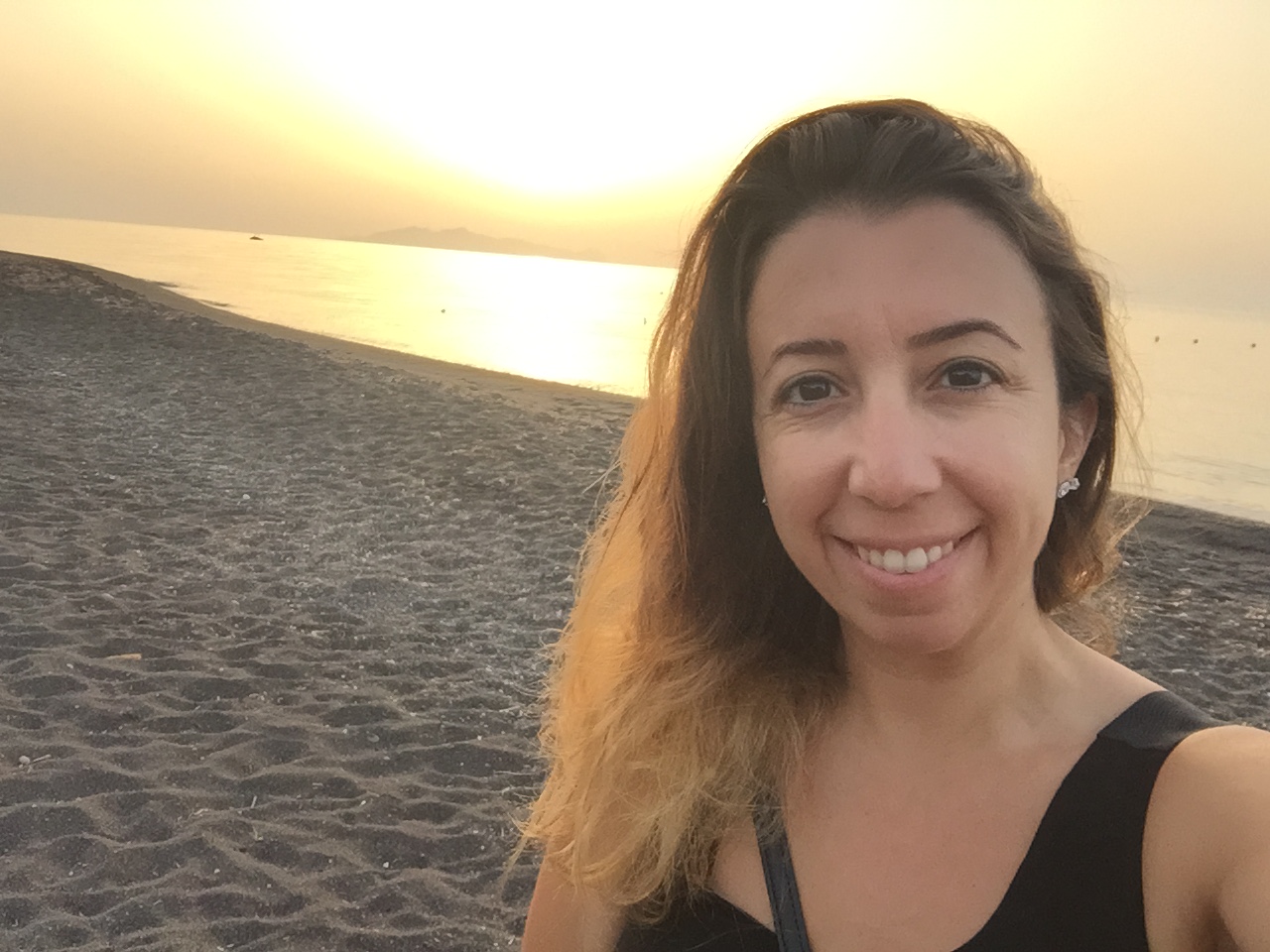 When my stay in Santorini was over, I headed to Athens by plane to prepare to head home. I spent 3 nights with my aunt, uncle and cousin at their home in Athens and I had such a great time. My cousin took me to the Acropolis and I picked up some amazing Athena energy there. I have never stood more in my power than I do right now! This was a huge transition for me, to finally accepting love from others and from myself but remaining true to my wants and needs. I can't imagine where i'd be if I hadn't visited this site and been aware of the energy transmission that took place. I also kicked my shoes off and stood barefoot in the restricted area of the former Asclepion Hospital, also located on site. According to Doreen Virtue in her book "Angel Medicine", this site was built above a former Atlantean Healing Temple. I can tell you without a doubt that the benefit of this experience far outweighed any risk. I could feel massive amounts of energy come up through my feet. Highly recommended!
The following day I booked a bus tour to visit Delphi, where the Temple of Apollo is located. This is where the Oracle would channel the God Apollo and people would visit from far and wide to receive the guidance.
Two days later, I headed home after this amazing experience. I am so grateful I had the opportunity to travel to Greece and experience this without any major commitments back home.
I've also begun development of some new techniques that were inspired by the trip and i'm excited about how this will change my work going forward. I will of course, keep you up to date.
Which place do you feel incredibly called to visit? Tell me in the comments!
Other shots of my trip in Greece - ENJOY!